If you're building a new home or renovating your latest real estate investment, a pitched roof is most likely a good option for you.
At the last count, over 93% of homes in the UK have pitched roofs, highlighting how suitable this type of roof is for our climate and lifestyles. Find out more about the benefits of pitched roofing, the best materials for the job, and what's involved in pitched roof construction.
Why Should You Choose a Pitched Roof For Your Home?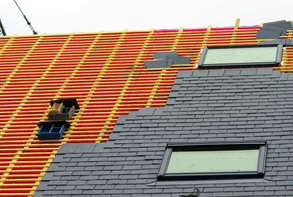 Although flat roofs have benefits too, for many homeowners, they lack the aesthetic appeal of pitched roofs.
Pitched roofs are a versatile design option and available in simple two-sloped versions, as well as those with complex hips and valleys.
They also have extra useable space beneath them which you can repurpose for storage without the expense of building another storey. If desired, you can easily add a pitched roof extension to your existing roof.
Snow, wind, and hail don't present a problem when you have a pitched roof – and with an average precipitation rate in Shropshire of over 31 inches per year, it's clear that this is a big benefit in the West Midlands!
Since buildings with pitched roofs are more compact than those with flat roofs, they usually have better thermal insulation, resulting in energy savings for you. You can also repurpose the rainwater captured off your pitched roof for watering your garden.
Pitched roofing materials come in a wide range of eco-friendly, sustainable options and you'll usually experience fewer maintenance issues with these kinds of roofs.
What Are The Best Materials for a Pitched Roof?
In an ideal world, we could all pick whatever roofing material we fancy based on colour and cost alone. In reality, the best roofing for your home depends on the pitch of your roof. For instance, asphalt shingles work best with moderately sloped roofs, while wood and slate shingles suit steeper roofs.
It's always best to consult with professional pitched roofing contractors before you set your heart on a particular type of roofing material.
These are some of your options when it comes to pitched roof materials:
Slate Tiles
Slate tiles last a long time, suit most homes, and have an elegant timeless appeal. However, they're an expensive option and require highly skilled installation. 
Clay Tiles
These are another attractive option that changes colour over time. Machine-made clay tiles also offer added durability and come with a guarantee that they won't fade.
Concrete Tiles
Concrete tiles are available in a wide range of colours and price ranges. The best ones boast intense, rich colours and have a protective coating that deters moss, lichen, dust, and dirt.
Zinc Roofs
Zinc is a relatively new material on the roofing market and is most often seen on modern pitched roofs. You can opt for a standing seam or zinc slates roofing system, but you'll need an expert roofer to perform the installation for you.
Thatch Roofs
Thatched roofs are uncommon in the urban environment, although commonly seen in rural England. Thatched roofs are labour-intensive to install and require a lot of maintenance. 
What Goes into the Pitched Roof Construction Process?
Every pitched roof installation starts in consultation with the homeowner and their architect. They'll discuss all the elements necessary to construct a roof that suits the home's design, the environment, and the needs of the owner.
Several components can affect the final pitched roof design of your home. These are:
Roof ridge – the line where the two roof slopes meet at the top
Valleys – joints and angles created when two parts of a sloping roof meet
Hips – concave angles or joints created where two roof planes meet
Drip edges – lines that indicated the lower part of the roof slope, for gutter channel placement
Pitch changes – the lines where two different, but not opposite, slopes meet
Gables or rakes – inclined lines defining the side slope of the roof
Eaves – parts of a roof that overhang or meet the walls of the building
All these factors can determine how well your roof drains water from its surface, therefore preventing leaks and undue maintenance.
The next issue for discussion is the roof structure itself. Most residential roofs have a brick and mortar structure topped with a wooden frame for the roof to rest upon. This wooden part of the roof is vital for supporting the weight of the roof tiles and keeping it in place. It consists of rafters, trusses, frames, and purlins. In some cases, your roofer may need to reinforce these elements if you're replacing your existing roof material with a heavier one, like slate.
The pitch of the roof plays a major role in determining almost all of these aspects since a steeper, taller roof will need more roofing materials and thus stronger support.
Based on the design you choose; your roofing contractor will decide on the best options for drainage to ensure a minimum of leaks and maximum safety for your family. 
Insulating Your Pitched Roof
Whether you're building a new home or refurbishing an existing one, good insulation is of utmost importance.
The best way to insulate a pitched roof is by installing insulation above and between the rafters. This process creates a sealed, unventilated structure, keeps out unwanted airflow, and maximises headroom as well as storage space. This isn't always possible when refurbishing a roof, so your roofing services contractor will usually insulate your roof under and between the rafters instead.
If you aren't intending to use the space in your roof for anything, you can insulate the loft floor instead.
The two main types of roof insulation materials are glass wool and insulation boards. Glass wool offers good sound and thermal insulation. Your contractor can install insulation boards quickly, but they don't offer as much sound insulation. 
The Best Options For Your Home
Every situation is unique, so it's always your best bet to consult with a local roofing company to come up with the ideal roofing and insulation solutions for your home.
Do you live in the Shropshire and Shrewsbury area? Get in touch for solutions to all your pitched roof construction, design, maintenance, and repair needs.